A determined businessman with a vision!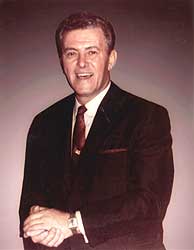 Paul Duquette, born on November 4, 1915, comes from a Quebec family of 15 children. Very early on, he was forced to leave school and find a job to help his parents support his brothers and sisters.
Intelligent, honest and resourceful, Paul Duquette had an innate talent for all things mechanical, and an enterprising spirit.
Thanks to his overwhelming enthusiasm and extraordinary determination, he was able to fulfill his dream of starting his own company!
Paul Duquette loved a challenge. Fuelled by the same passion and courage that characterize all great businessmen, he invested all his savings and ressources into a company that would become a Quebec leader in the field of paper tubes, supplying numerous industries, including textiles, plastics, geotextiles, carpets, packaging, construction and industrial paper. ON JULY 27, 1970, POLYROL WAS BORN!
The first order, which helped launch the Company, came from the United States where a window blind manufacturer was inspired by Paul Duquette's ingenious idea of rolling the blinds on CARDBOARD tubes instead of wood tubes.
This first big order from the U.S. had a tight deadline, which was not only met but was even early thanks to the help of his entire family, who worked day and night to complete the task. Don't forget that at the time, all packaging was done by hand and the order was delivered in an old-rented-truck! Today, Polyrol has sophisticated manufacturing and packaging equipment and its own fleet of trucks, which ensures unparalleled delivery service.
In the late 1970s, the Company started manufacturing spiral wound fibreboard tubes. Since then, we have continued to expand our range of products to meet the increasingly varied needs of our clientele, because our strength is our flexibility and our advantage is our speed! It is with our founder's same passion, attention to detail and friendliness that the third generation of Duquettes strives to serve the most important people in the world: Our clients.